I have appeared on numerous television talk and news programs to promote my book.
Click the photo below to see just one video sample of interview on WJZ-TV 13's
Morning Show in Baltimore, MD.
Below are some examples and a partial listing of Newspaper, Radio and Television Coverage I have received for my book.
Family Circle Magazine purchased the rights to write and publish this 9-page
condensed version of The Golden Ring, which appeared in their Holiday issue. Family Circle is sold to 5 million households in the U.S.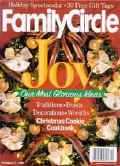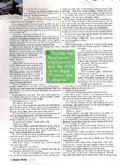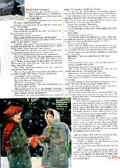 Listen To Radio Interview Samples
WTOP News Radio in Washington, DC played this numerous times over the holidays!

ANNOUNCER'S LEAD IN: "Holiday traditions include countless classic stories from "T'was the Night Before Christmas".. to the "Grinch who stole Christmas" And now there may be a new classic from a local author! More on that from WTOP's Man About Town Bob Madigan who is brought to you by your local Lincoln dealers!"


Click below control to hear interview.
Samples of Print Media Coverage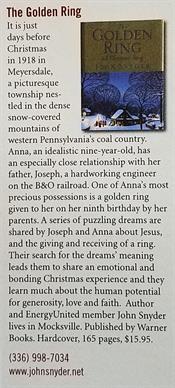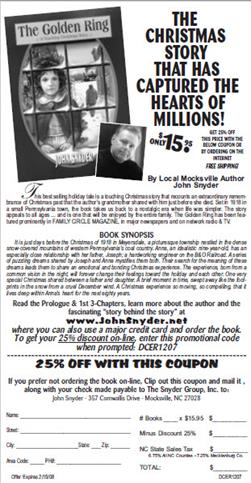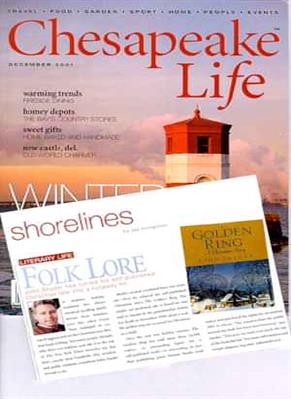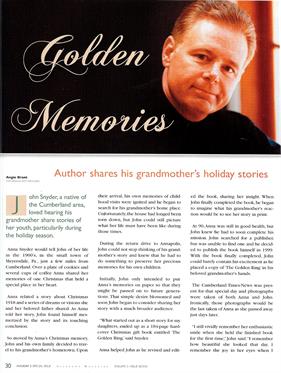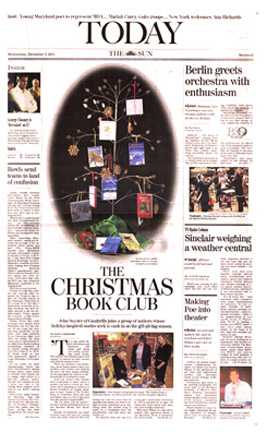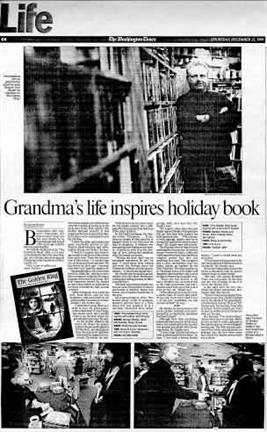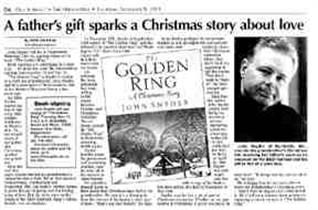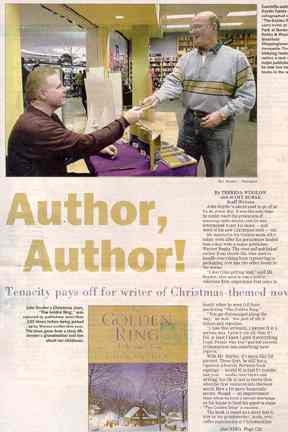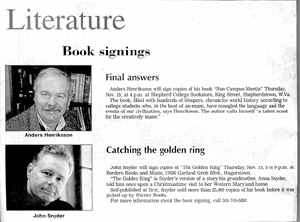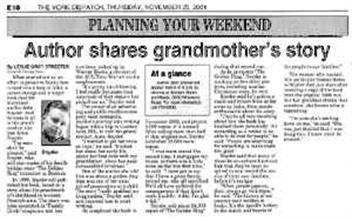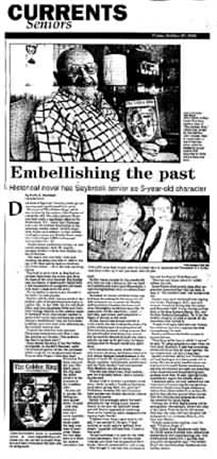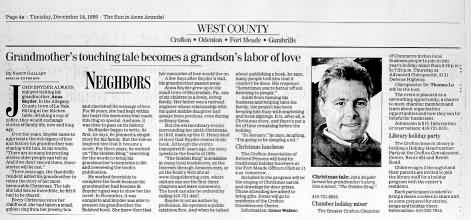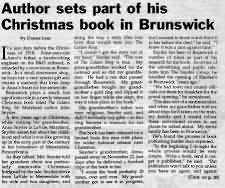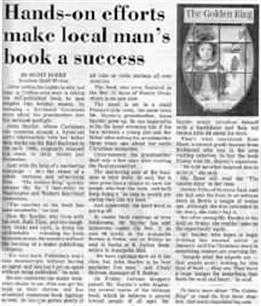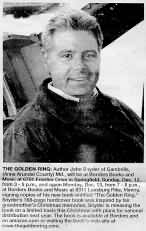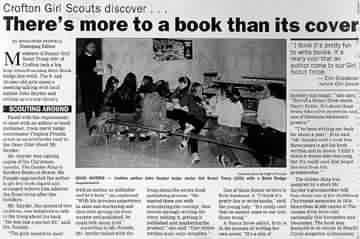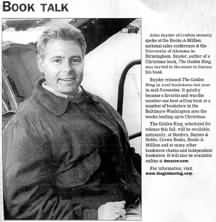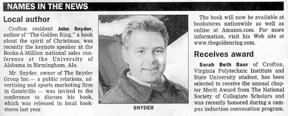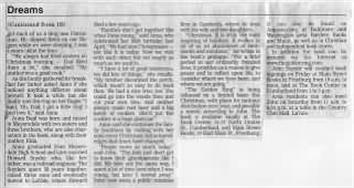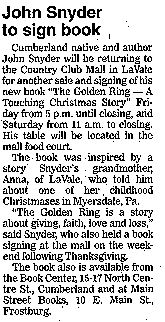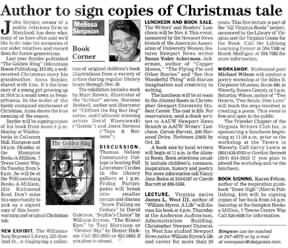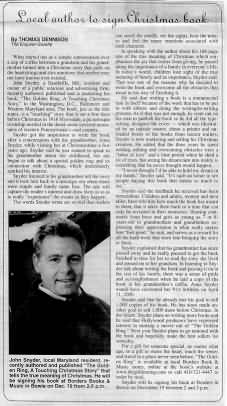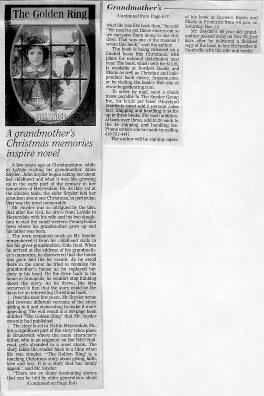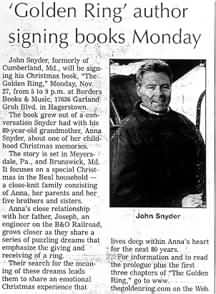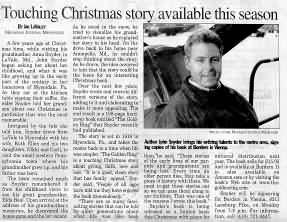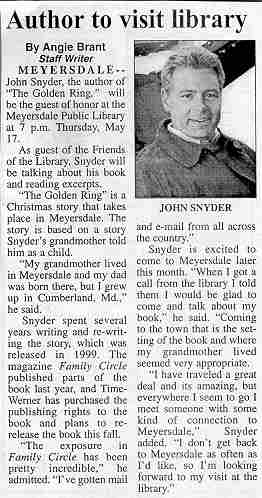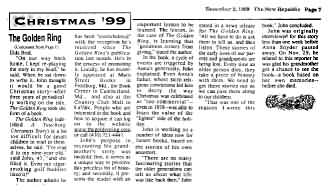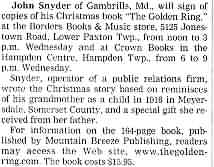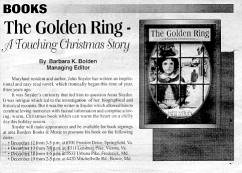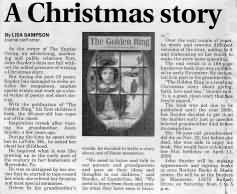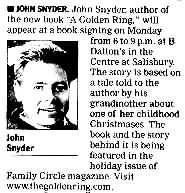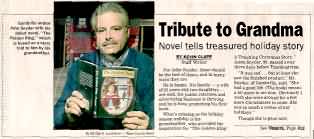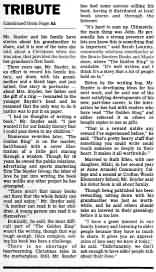 RADIO & TV COVERAGE
John Snyder was a guest of the below listed radio and television stations
to promote his book.

Network Radio
ABC Radio Network - About 1800 radio stations coast-to-coast

American Family Association
Radio Network - Over 200 Stations

Moments With Marianne
National Radio Show on iHeart RADIO

LOCAL RADIO & TV STATION INTERVIEWS AROUND THE U.S.

Alabama
WAPI-AM - Birmingham, Al
WIQR-AM - Montgomery, AL
WWPG-AM - Tuscaloosa, AL
California
KDUV-FM 88.9 - Visalia, CA
District of Columbia
WMZQ-FM - Washington, DC (2 Times)
WTOP - Washington, DC (2 Times)
Florida
WAY-FM 88.1 - West Palm Beach/Ft. Lauderdale, FL
WAY-FM 88.7 - Naples/Ft. Myers/Cape Coral, FL
WOLR-FM 91.3 - Lake City, FL
Iowa
KWKY-AM - Des Moines, IA
Kentucky
WAAJ-FM 89.7 - Hardin, KY
Maryland
WJZ-TV 13 (CBS) - Baltimore, MD
WBFF-TV 45 (FOX) - Baltimore, MD
WBOC-TV (CBS) - Salisbury, MD
(2 Times)
WMDT-TV (ABC) - Salisbury, MD
WHAG-TV (NBC) - Hagerstown, MD
WBAL-AM - Baltimore, MD
WGTS-FM 91.9 - Silver Spring, MD
WROG-FM 102.9 - Cumberland. MD
(5 Times)
WCBC-AM 1270 - Cumberland, MD
(3 Times)
WTBO-AM 1450 - Cumberland, MD
(6 Times)
WLVM-FM - Salisbury, MD
WNAV-AM - Annapolis, MD (2 Times)
WFRE-AM - Frederick, MD
WICO-AM & FM - Salisbury, MD
WWFG-FM - Salisbury, MD
WARX AM & FM - Hagerstown, MD
WJEJ-AM Hagerstown, MD
WQSR-FM - Baltimore, MD
WYRE-AM - Annapolis, MD
Minnesota
WWJC-AM - Duluth, MN
Mississippi
WHIT-FM 93.5 - Clinton, MS
New Mexico
KNMI-FM 88.9 - Farmington, NM
North Carolina
WGHP-TV 8 (FOX)
Winston-Salem/Greenboro
WXII-TV 45 (ABC)
Winston-Salem/Greensboro
Pennsylvania
Pennsylvania Radio Network
(55 Affiliate Stations)
WGAL-TV 8 (NBC) - Lancaster, PA
WSBA-AM - York, PA (2 Times)
KDKA-AM 1020 - Pittsburgh, PA
STAR 100.7 FM Radio - Pittsburgh, PA
WHP-AM - Harrisburg, PA
Ohio
WANR-AM 1570 - Warren, OH
WYSZ-FM 89.3 - Maumee, OH
Tennessee
WAY-FM 88.7 - Nashville/Huntsville/Chattanooga, TN
Tennessee Radio Network
Nashville, TN (80 Affiliate Stations)
Virginia
WRIC-TV 8 (ABC) - Richmond, VA
WTVR-TV 6 (CBS) Richmond, VA
WJRV-FM "The River: 105.7 FM - Richmond, VA (2 Times)
WXGI-AM 950 - Richmond, VA
WWMC-FM 90.9 - Lynchburg, VA
WFAX-AM - Fairfax, VA
WRVL-AM - Lynchburg, VA
Wisconsin
WCLQ-FM 89.5 - Schofield, WI
WORQ-FM 90.1 - Green Bay, WI



© 2001 - Present by John Snyder
WAY-FM Christian Hit Radio in Nashville, TN is a national Christian radio network. They used THE GOLDEN RING in a promotion where father's from all over the country would enter to win a copy of the book and get a chance to read a portion of the book on-air. Here are two examples!


Click the below controls to hear interviews.